TEDxVienna Satellite Event
7/20max
Date: Oct. 20th       Time: 10:00 - 14:30
TEDxVienna Satellite Livestream @ ACADEMY387
Watch TEDxVienna 2018 at a public satellite event
"SIMPLEXITY" streamed live from Volkstheater, Saturday, October 20, 2018
Program je na engleskom jeziku.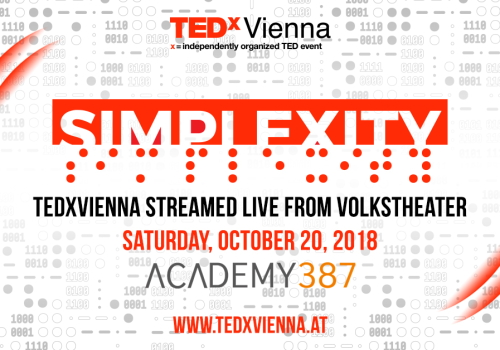 TEDxVienna Satellite Livestream @ ACADEMY387

Watch TEDxVienna 2018 at a public satellite event

"SIMPLEXITY" streamed live from Volkstheater, Saturday, October 20, 2018
P R O G R A M:
Session 1: THINK (10:00 - 12:00h)
Performance: Male Cheerleaders | TEDxFearleaders special
Jeffrey Kluger | Simplexity Ubiquity: The confounding interplay of the simple and complex is woven into all aspects of our lives.
Dan Kahan | Are smart people ruining Democracy? What about curious ones?
Philippe Narval | The friendly Revolution - How we can reinvent democracy
Performance: Artzts Without Borders | One Step out of 1.000
Tal Shmueli | Hack yourself: Relaunch your life with the help of your network
BREAK (12:00 - 12:30)
Session 2: TOUCH (12:30 - 13:50h)
Elias Knubben | Bionic Thinking - When a complex problem can be solved with simple means, it is in a way ingenious.
Dan Phillips | The Algorithms of Human Preference
Dani Clode | Why I Created a Third Thumb
Performance Wolfgang - Hang Instrument | SPACE
Roham Gharegozlou | Life is non-fungible: the evolution of ownership, assets, and us
LOCAL TALK (13:50 - 14:30h)
The Brew Crew

We bring you a special talk from a rather young local brand. Their story of craft beer and special moments shared among friends may sound simple, but to them – it's a rather simplex brand story, intertwining a lot of seemingly unrelated elements.

As outlined on the TEDxVienna page "SIMPLEXITY can be found across multiple disciplines, from technology, design and economics to linguistics and human behaviour."

Human behaviour and memorable experiences is what they are in to decode through a rather simplex concept of "RAJA". During their talk, they will touch on how they perceive their story and how combining the art of craftsmanship and this special form of friendship can work to form a win-win combination.
----

TEDxVienna is gathering more than 20 speakers and performers from all over the globe for a full day to explore the new simple and complex ideas, from the latest advances in science and technology to the deepest insights into psychology, creativity and wisdom.

Join like-minded people and watch the sessions live and free of charge at one of the "satellite events". Different locations in Vienna, Austria and all over the globe are streaming the talks and an exclusive intermission show on October 20th. See a full list of locations on www.tedxvienna.at/simplexity